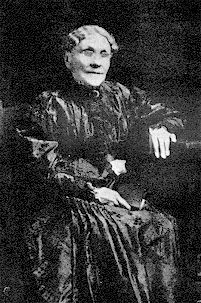 Fanny Crosby was prob­ab­ly the most pro­lif­ic hymn­ist in his­to­ry. Though blind­ed by an in­com­pe­tent doc­tor at six weeks of age, she wrote over 8,000 hymns. About her blind­ness, she said:
It seemed intend­ed by the bless­ed prov­i­dence of God that I should be blind all my life, and I thank him for the dis­pen­sa­tion. If per­fect earth­ly sight were of­fered me to­mor­row I would not ac­­cept it. I might not have sung hymns to the praise of God if I had been dis­tract­ed by the beau­ti­ful and in­ter­est­ing things about me.
In her life­time, Fanny Crosby was one of the best known wo­men in the Unit­ed States. To this day, the vast ma­jor­i­ty of American hymn­als con­tain her work.
When she died, her tomb­stone carried the words, "Aunt Fanny" and "Bless­ed as­sur­ance, Jesus is mine. Oh, what a fore­taste of glory divine." Eliza Hewitt me­mor­i­al­ized Fanny's passing in a poem:
Away to the country of sunshine and song,
Our songbird has taken her flight,
And she who has sung in the darkness so long
Now sings in the beautiful light.